Lash Out Loud!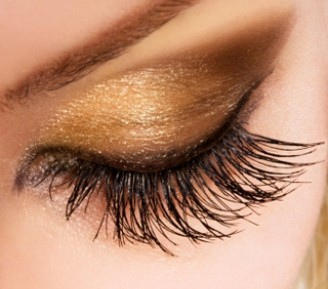 What's the secret to eye-popping peepers? Luscious lashes!
But first, a bit of trivia: Did you know that the first eyelash extensions were made for a film in 1916 when director G.W. Griffith wanted Seena Owen's eyes to have lashes that "brushed her cheeks, to make her eyes shine larger than life?" The first commercially available pair of extensions were then made in Korea in 2004 and distributed to a Vietnamese market.
There are two types of lashes- the strip falsies and permanent lashes. Falsies can be applied in one easy swipe of eyelash glue and stuck on the eyelids. They are made to last from a few hours to one whole day, but aren't sturdy enough to be worn over an extended period of time.
Permanent lashes are a bit trickier to put on, so I recommend going to a salon to have a professional do it for you. This can be a tedious task to accomplish because each strand of hair is attached to each eyelash thereby making it a job for hands that are meticulous and precise. Typically, each set would carry around 50-80 strands and take about an hour to finish.
First, the bottom lash line is secured with tape or adhesive to get the lashes out of the way. Next, the upper lashes are brushed to make sure there are no tangles and that the extensions attach smoothly. Then comes the tedious part- attaching the lashes one by one. Each strand is dabbed with glue and attached on top of your natural eyelash to darken and lengthen it.
Phew! Imagine doing all that hard work by yourself- could you? These babies will last you for about a week, but you can go back to the salon to have them repaired. It may take a few hours of your day, but as you will see, the results are stunning!