Nail Polish that Changes Color in the Sun? Sweet!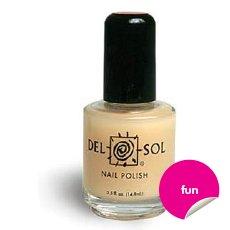 In a recent trip to the local drug store I was intrigued by a display of nail polish that apparently changes color in the sun. I became slightly nostalgic remembering my youth when all things that changed colors were the bee's knees! So I tried it. "Ruby Slipper", a clear one with silver glitter that was supposed to change to a bright red.
Guess what? It worked! I went outside and watched it magically change right before my eyes! I was 10 years-old again with excitement. They have a pretty good selection of colors, and it would be a BIG hit with any little girls you might have to impress. It doesn't hold up chip wise as well as the mainstream brands but if you throw on a top coat, you are good to go. For 10 bucks, it's worth it for the "wow" factor.
Check it out! Del Sol-Color Changing Nail Polish