Weekly Beauty Bargain! Primer!
Here is the Weekly Beauty Bargain!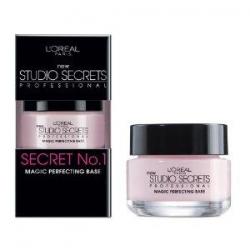 L'Oreal Studio Secrets Magic Perfecting Base $10. Phew, that's a mouthful. It's a face primer that you use under your foundation. If you don't use one, you should...you can check out our previous blog for all the gory details but it will smooth out your skin-filling in fine lines and pores so your makeup doesn't settle in them-and it will hold onto your foundation all day keeping it fresh and on your face. Also helps combat oil and leaves a luminous satiny matte finish...love! Perfect for all skin types and colours.
It has a velvety soft texture and rivals all the major brands out there but for a third of the price. FYI L'Oreal is owned by Lancome so you can be sure the qualities are similar in the two brands.
Application tip-use a brush to apply it, not a sponge (uses up product) or fingers (adds dirt and oil to your face). And then wait 60 seconds for it to dry before putting your foundation on top for a flawless, long lasting finish!